This is The American Hero Show
Retired US Army Staff Sergeant Travis Mills (82nd Airborne) is a wounded warrior, motivational speaker, bestselling author and an advocate for veterans and amputees. In The American Hero Show, Travis brings his larger-than-life personality, sense of humor and uniquely inspirational perspective to conversations with American Heroes from all walks of life; military, business, athletics, first responders – and many more. What people, moments or challenges motivated and inspired those who now inspire so many?

Learn about them, and from them through their conversations with Travis – Hero to Hero on The American Hero Show.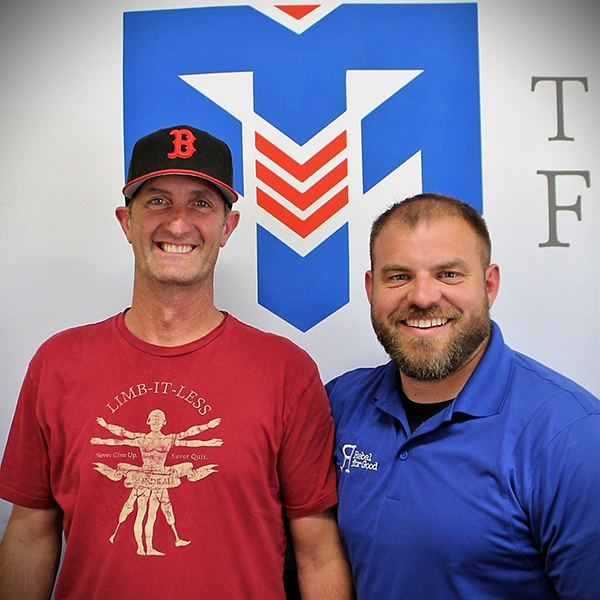 Travis Mills
Travis is one of only five quadruple amputees from the wars in Iraq and Afghanistan to survive his injuries.  He was critically injured on his third tour of duty in Afghanistan by an IED (improvised explosive device) while on patrol, losing portions of both legs and both arms.  His story has been featured across multiple media channels including CNN, Fox News, and The Ellen DeGeneres Show. He and his wife founded the Travis Mills Foundation, a nonprofit organization dedicated to supporting recalibrated veterans and their families.
Travis lives by his motto: "Never give up. Never quit."
Tim Eisenhart
A man of many talents; Tim was a High School math teacher for 17 years as well as a baseball, softball and basketball coach at school and privately during that time.  He met Travis because his wife, Amanda, and Travis' mother in law are both American sign language interpreters in Maine.  Tim and Travis have been friends for years and have a tremendously fun rapport on and off air – at times reminiscent of Felix and Jack from The Odd Couple.
He and his wife have two boys who love to play sports all year round and Tim loves to play guitar and sing in pubs in between podcast projects and dreams of one day being the announcer at Fenway Park.