About This Episode
In this episode; Brigadier General Sutton says she likes the term "recalibration" Travis uses to talk about veterans and asks about its origins.  Dr. Sutton also shares inspirational stories of resilience from recovering service members over her 35+ year career in service and helping others in the US Army and New York City. 
Her commitment to helping service members continues now with her role at randrproject.org where they are pioneering a method of helping individuals suffering from PTS called "Reconsolidation of Traumatic Memories" or "RTM."
Before you listen!
In this episode; Brigadier General Sutton references a recent strip of the iconic comic Doonesbury that specifically referenced one of her recent projects – a method of helping individuals suffering from PTS called "Reconsolidation of Traumatic Memories" or "RTM."  Learn more about that endeavor at randrproject.org and see that strip here: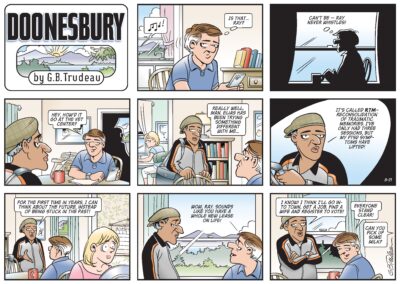 Doonesbury 08-21-22
Listen to This Episode On
About Our Guest
Brigadier General Loree Sutton, MD is a lifelong public servant, physician and retired brigadier general who, as the Army's highest-ranking psychiatrist; co-founder, Threshold GlobalWorks, LLC; and founding commissioner, NYC Department of Veterans' Services, has devoted over 35 years of service & leadership to the nation and New York. Sutton's decorated military career includes earning a Bronze Star for her actions in combat while deployed to Operation Desert Storm. Selected as a White House Fellow, the nation's premier leadership program, and honored by the National War College as a distinguished graduate, she also commanded the Carl R. Darnall Army Medical Center at Fort Hood, TX during the height of Operation Iraqi Freedom hostilities.
Sutton also served as: a White House fellow and special assistant to the director of the Office of the National Drug Control Program; assistant professor of psychiatry and a disaster medicine consultant at Uniformed Services University of the Health Sciences; chief of inpatient psychiatry at the William Beaumont Medical Center; and division psychiatrist for the 1st Armored Division.
Serving as the founding director, Defense Centers of Excellence for Psychological Health and Traumatic Brain Injury, Loree pioneered integrative approaches for building resilience, enhancing recovery and fostering community reintegration. Spanning decades of service in the public & private sectors, her visionary leadership has yielded transformational change which continues to improve the lives of veterans, families, caregivers and survivors.
In addition, Sutton is a graduate of the U.S. Army Command and General Staff College, and a distinguished graduate of the National War College. She has received numerous awards during her career, including the Legion of Merit, Bronze Star Medal, Defense Meritorious Service Medal, and the Order of Military Medical Merit.
Learn more about Brigadier General Loree Sutton's work at randrproject.org and connect on Social Media